BUILDING BOXEL
New Geo-Referenced Space Measure
The Building Boxel is a 10x10x10 feet cuboid geo-referenced on Earth. The coordinate of Boxel needs only 10 alphanumeric characters of base 64 encoding to render it unique on the planet. Therefore, this unique space identifier will be compatible with all other computer systems and synchronize the space information in their database.

Furthermore, the Building Boxel provides a method to create a planetary database containing all the GIS footprints of all the spaces (floors, rooms and project zones) and equipment either in a building, on a building or on a site stored in several databases.

Archidata invented this concept to help building operators locate equipment regardless of the evolution of a building's spatial structure. The location of the equipment is identified and sent to the IWMSs.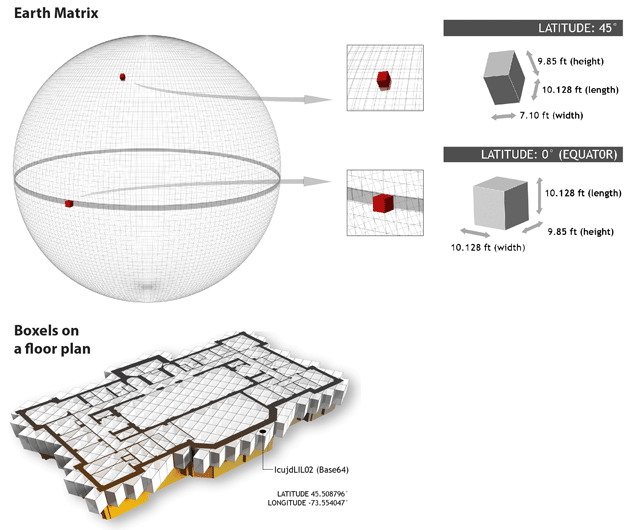 BENEFITS
Space unit smaller than a room, permanent in space and time
Equipment, project drawings and documents easily located in relation to a floor (interactive)
Geolocation of major projects or asset maintenance projects in a georeferenced framework
Simplification of databases by modeling relationships between equipment, systems and spaces

Placed on a sphere, the boxel is represented by a nearly perfect cube at the equator and a parallelepiped more and more elongated when approaching the poles. The matrix of boxels which covers the ground contains 360x60x60x10x160x60x60x10x600 boxels.

Each boxel has a unique alphanumeric identifier.